| | |
| --- | --- |
| | Monday, December 12, 2022 |
Menart Fair expands to design in Brussels

Menart Fair opens its doors to design in Brussels and demonstrates the legitimacy and creativity of the Middle East and North Africa (ME.NA). In its precious setting - Modern & Contemporary Art - Menart Fair presents quality furniture, installations and objects that embody magic and refinement, eclecticism and audacity.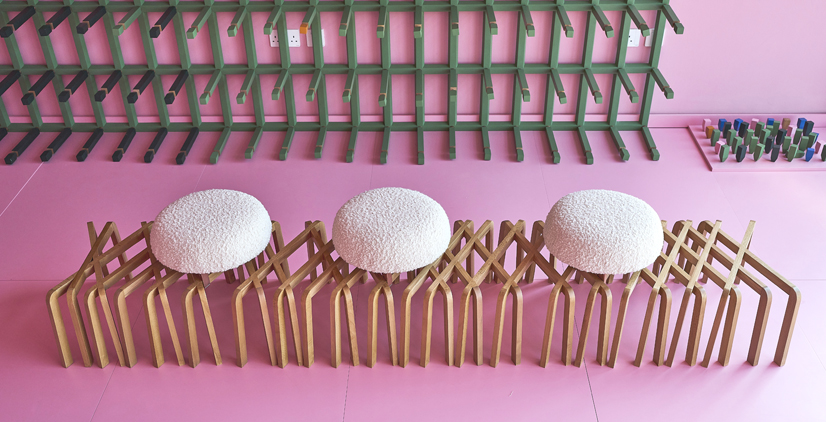 Jihad Khairallah

,

Kumo

, 2022, solid wood structure, pouf in fabric, 245 x 50 x 45 cm. -

Atelier Nadeen x jihad khairallah architects

(Beirut, Lebanon)

The ME.NA countries are renowned for their traditional know-how combined with the contemporary forms of a region rich in multiple influences: here surprising, moving and original creations emerge. This contemporary design, sometimes visionary, reveals its deep roots in experience and time. It is the result of exchanges, of the mix and succession of people and civilisations.

A quick tour with Joanna Chevalier, artistic director

Upon entering the Boghossian Foundation - Villa Empain, the visitor will discover the impressive installation of

The Great Design Disaster

, a design studio created in Milan (2019) by the talented duo

Gregory Gatseleria

and

Joy Herro

.
A scene of a table devastated by a catastrophe, a still life that would transport us to Pompeii, if it did not evoke the fateful explosion of the port of Beirut, on August 4th 2020. Beauty of the petrified moment, suspended time, the allegory "

Post-Disaster Room

" was created in collaboration with Clayper Artisan.












Gregory Gatserelia

,

Post-Disaster Room

, 2022, existing furniture sourced from the Flea Market in Beirut (Basta), covered in recycled paper by a Lebanese artisan, 350 x 280 cm -

The Great Design Disaster

(Milan, Italy).
Located in Venice,

Everything I Want

is committed to the preservation of know-how, particularly that related to glass. Its founder

Nadja Romain

(curator, now editor) will present three artists:
The glass bundles by Pakistani

Osman Yousefzada

- the recent beneficiary of the solo show "

What is Seen and What is Not

" at the Victoria & Albert Museum - demonstrate the precariousness that migrants "survive": their only "treasures", a few personal objects enclosed in bundles, are represented here by these fragile glass forms.


Flavie Audi

, for her part, recounts a utopian future - duality between real and virtual - is revealed through the physical properties of glass. She enchants us with her creations of glass magma where the alchemical work is frozen to become sculptures/meteorites.














Osman Yousefzada

, from the Wrapped Objects Collection, 2022, hand-blown murano glass, 35 x 27 cm
-

Everything I Want

(Venise, Italie)



Flavie Audi

,

Le Vase Communicant

, 2022, hand-blown glass, 16 x 11 cm
-

Everything I Want

(Venise, Italie)


Tarek Shamma

, trained in London with Zaha Hadid and David Chipperfield, and who has notably designed boutiques for Christian Louboutin, is known for his pure architecture, geometric lines with oriental overtones and noble materials - here, his first editions in Murano blown glass.




Musk and Amber Gallery

is a gallery founded in Tunis by

Lamia Bousnina Ben Ayed

, a woman of taste and elegance.
She wished to reveal the work of the Iranian

Mohammad Hossein Ghaderi (known as Mohegh)

, a designer who confronts different media, notably cabinet making and weaving.
He will unveil, among other things, two cabinets with original fronts: one with a painted landscape, the other composed of wood marquetry.


Mohegh

,

Tarang

, bench, 2021 -

Musk and Amber Gallery

(Tunis, Tunisie)



Le LAB

was founded in Cairo by lawyer and philanthropist

Rasheed Kamel

, who aims to highlight artists from the region.
This first collaboration with Menart Fair is a safe bet, with the exhibition of a sure-fire talent:

Omar Chakil

, a leading designer on the Egyptian scene, who raises alabaster to the top. This rock with its beneficial properties, so present in the Pharaonic era, is reappearing in our time in the form of coffee tables, lighting and bookcases.




Omar Chakil

,

various creations

, 2022, alabaster
-

Le Lab

(Cairo, Egypt)





L'

Atelier Nadeen x jihad khairallah architects

, based between Beirut and Dubai, presents the work of two artists,

Nadine Roufael

and

Jihad Khairallah

.
Nadine's ceramic sculptures are the result of a daring work full of texture and colour. The movement suggested by her almost vegetal forms seems incarnate, giving life to the mineral.
Jihad's style - modern minimalist inspired by the Orient - is her trademark. At first glance, it is recognizable in his "Versatile" works, composed of multiple materials, or in the wooden structures of the "Kōzō" series, which let colour and light shine through. The flexibility of the "Kumo" table and chairs leaves room for your imagination to make them unique.


Nadine Roufael

,

Spectrum

, 2022, Céramique, Ceramic, base in velvet finish with special effect glaze, 55 x 30 x 28 cm


- Atelier Nadeen x jihad khairallah architects

(Beyrouth, Liban)



Menart Fair Brussels 2023, next February, offers an exceptional ART + DESIGN programme that confirms
the role of the ME.NA countries as one of the most dynamic regions for contemporary creation.
Our proposals will take the visitor on a journey to the heart of this luminous and bewitching East.
Practical Information



MENART FAIR
Middle-East & North African Art


Dates

: Friday, February 3rd to Sunday 5th, 2023, from 11am to 7pm


Venue:

Boghossian Foundation - Villa Empain
Avenue Franklin Roosevelt, 67
1050- Brussels, Belgium.

Press preview

: Thursday, February 2nd, 2023, from 4pm to 6pm


VIP

Inauguration

: Thursday, February 2nd, 2023, from 6pm to 10pm
>> Ticketing <<
Copyright ©️ 2022 FANNART SAS, All rights reserved - MENART FAIR Newsletter
FANNART SAS : 3 Rue Duban, 75016 Paris, France


Add us to your address book :

newsletter@menart-fair.com



Want to change how you receive these emails? You can

unsubscribe

from this list.